"

Virtuosic percussion meets theatrical absurdity"

Tickets and concert information
Tickets: 
40 Tickets per show ($45) in the Mabry Room
Available starting Wednesday, January 30, 2019* 
Program: 
Situation 13: The World Doesn't Exist - François Sarhan 
Home Work - Sarhan 
Aphasia - Mark Applebaum 
Situation 15: Freiheit und Macht - Sarhan 
Situation 5: A Good Action - Sarhan 
Situation 7: Imagination - Sarhan 
Analogy Fair - Sarhan 
Table Music - Thierry De Mey
Schedule: 
6:30 / 2:30pm: Pre-concert talk - learn what to expect 
7:00 / 3:00pm: ANALOGY FAIR 
8:00 / 4:00pm: Post-concert discussion and art exhibit 
Collaborators: 
Mitchell Noah, concept artist 
Riggs Marietta, lighting design  
Kevin Bourassa, audio recording 
Folie a Two Studio, video recording 
Note: 
This performance takes place in a handicap accessible room. However, please make that note when purchasing tickets so that we can accommodate you as best as possible. Thanks!
*Learn how to get early access to tickets and other benefits by become an ARTIST SPONSOR or TICKET SPONSOR
art-program
Mitchell Noah is an artist based in Baltimore, MD. His practice shifts between actions, design, humor, and craft. He utilizes sculpture, image making, video, improvisation and intervention. He holds an MFA in Intermedia + Digital Art from UMBC, and an MFA in Glass/Sculpture from BGSU in Ohio. His work has been shown in group exhibitions both nationally and internationally, particularly through artist-run and grassroots arts spaces. Mitchell is also a practicing hot glass maker and instructor. His current research interests focus on adhocism and the logistics of producing art during "late stage" capitalism. Noah's playful reconfigurations touch on recurring ideas of the vehicle, utopias, and infrastructure. Recent group exhibitions include Midnight at Paradice Palase, Brooklyn, NY (2018), Young Blood at Maryland Art Place, Baltimore, MD (2018), and Strength in Practice at Gallery CA and Waller Gallery, Baltimore, MD (2018).
Capitol Directory will serve as a visual companion to the concert. All audience members will receive a collectible print of this piece, which will replace a traditional program as a newly created, limited edition format of this work.
The original piece is an accompaniment to the video work Capitol Bouncer, which can be seen below.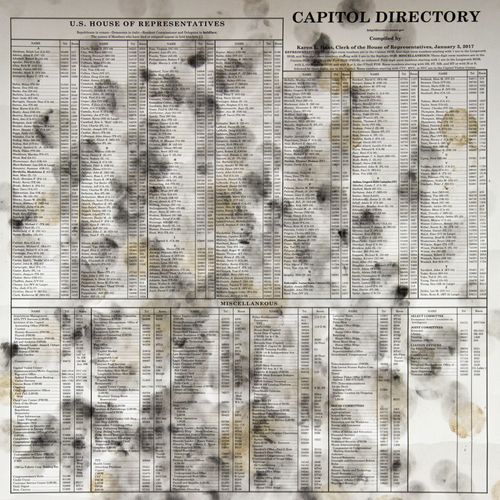 about the art
Upon visiting the House Offices in DC, I happened upon a custodian removing a Captiol Directory from a vitrine mounted between two elevators in the building. They proceed to place it behind the trash bin. I asked her if I could have it, and she quickly handed it to me. I then took it back to my studio in Baltimore to practice my mark-making. The resulting drawing is a record of me passing the time with a rubber bouncing ball. Tick-tock!
Curator's Notes
Across Mitchell Noah's body of work you'll find everyday objects juxtaposed with images of reverence.  Through sculpture, digital collage and performance Noah plays in the fertile ground of mundane, innocent, common action (sweeping, bouncing a ball, transportation) in contrast with images and objects of superficially loaded import (religious icons, authoritarian iconography,  sacred objects), combining image, object, action, and symbol in ways neither overtly subversive nor provocative, yet nonetheless anxiously disruptive.  
The percussive trio Quaquaqua swims similarly through territories of the everyday actions, creating new communication and musicality from the disruptions of those actions.  Jarring interruptions and absurd object/image/action relationships manipulate the discomfort of surprise and separation to reframe our connections with language, empathy and understanding.  The abrasive and callous handling of ostensibly serious subject matter resonates through both their performance and the visual artwork you hold, an image of the capitol directory, a formal catalog of one of the world's most prestigious institutions, roughly punctuated by the rhythmic, percussive play of a boy with his rubber ball.
-Jeffrey L. Gangwisch, art curator
Capitol Bouncer (2017)
A playful action at the United States Capitol in Washington, D.C.
Under the guise of a white-collar, I did a small, quiet performance in the very contradicting public space that is the exterior courts of the United States Capitol building in Washington, DC. By bouncing a (racquet) ball, I was hoping to provoke a playful interaction with any fellow citizen where we could have an exchange free from rules in a space that symbolizes the fabrication of rules. The performance is documented in a video titled Capitol bouncer. Rules structure how we act, limiting how we play (liberate) in public space. I felt compelled to perform an action that could covertly inspire fun. It was fortuitious timing that I happened to begin this sneaky performance at the same time as a field trip by a group of elementary school students. I was expecting an interaction with authority (notice the on-looking Capitol Policeman who was armed near the top of the stairs). - Mitchell Noah
about the performers
QuaQuaQua is a theatrical percussion ensemble whose members are as much theatrical performers as they are musicians. They create powerful and engrossing original performances that combine percussion, theater, gesture, and live electronics. Bringing their percussion skills to bear on theatrical work, they place themselves at the forefront of a powerful new trend in performance.
Baltimore-based percussionist and performer Adam Rosenblatt has a penchant for finding interesting and uncommon ways to present and perform contemporary music. He has a keen interest for growing an interdisciplinary performance practice, believing that a mix of media and art forms can speak more directly and powerfully to our current context. 
Besides QuaQuaQua, Adam frequently performs with such groups as the Ictus Ensemble in Brussels, Belgium, NakedEye ensemble, and Trinity Wall Street's NOVUS NY. He is a founding member of mixed ensemble Something Out There which, like QuaQuaQua, focuses on the ambiguous space between musical and theatrical performance. Adam has recently performed in such varied venues as The Onassis Cultural Centre in Athens, Greece; Berghain in Berlin with experimental electronic duo Matmos; The Banff Centre for the Arts; and the Palais des Beaux-Arts in Brussels, Belgium. 
Highlights of Adam's 18-19 season include a new production of Michael Gordon's Timber with original reactive lighting elements; performances with NakedEye Ensemble, and at WNYC's variety show 44 Charlton; and a season-long collaboration on a new production with ensemble Something Out There, and composer François Sarhan at Maschinenhaus Theater in Essen, Germany . 
Adam is currently an artist in residence at The Creative Alliance in Baltimore.
Terry Sweeney is an avid chamber musician and collaborator. In addition to quaquaqua, 
Terry is a member of Sandbox Percussion, HOWL, and The Percussion Collective. With 
Sandbox, Terry has performed over 150 concerts across the United States. Some 
recent projects with Sandbox include QUIXOTE - a multi-year collaboration with the 
theatrical ensemble HOWL , a world premiere with Andy Akiho and The Industry opera 
company in Los Angeles, a collaboration with choreographer Brian Brooks and his 
dance company, and the world premiere of a concerto by Viet Cuong with the Albany 
Symphony. 
As an educator, Terry is currently a visiting artist at UMass Amherst, directs the 
percussion studies for the Yellow Barn Young Artist Program, teaches at the Dwight 
School in Manhattan, and co-directs the NYU-Sandbox Seminar. Terry holds degrees 
from the Peabody Conservatory and the Yale School of Music and endorses Vic Firth 
sticks and mallets, Remo drumheads, Pearl/Adams Musical Instruments, and Black 
Swamp accessories.
Percussionist and educator Tatevik Khoja-Eynatyan is driven by her passion to use the arts as a tool for building peace. 
As a performer, Tatevik is interested in pushing boundaries and exploring gray areas – both musical and social. With QuaQuaQua, she is working on developing new repertoire that explores the ambiguous terrain at the intersection of musical and theatrical performance, working closely with French composer François Sarhan. Most recently, she has had the privilege of participating in socially charged projects, such as the premiere of Judah Adashi's Rise, a meditation on America's ongoing civil rights journey; the Quest Visual Theater's Look Through My Eyes, an exploration of color, gender, and disability; and Ruby Fulton's video opera Adam's Run, which challenges viewers to broaden their perspective on the definition of opera. 
Tatevik currently teaches with the El Sistema-inspired OrchKids program in Baltimore and teaches percussion and musicianship at the Baltimore School for the Arts and the International School of Music. She also spends a significant portion of each year in her native Armenia, where she is a faculty member of Sistema Armenia and pursues various other pedagogical activities. To date, she has used music as a source of much-needed focus and therapy at a crisis center for children and has facilitated various rhythm and movement workshops for hundreds of musicians and non-musicians of all ages throughout Armenia, Belgium, and the U.S. 
Tatevik has appeared with the SONAR New Music Ensemble in Baltimore's Theater Project; Gent Advanced Master's Ensemble (GAME) in the Concertgebouw, Bruges; the Palais de Beaux-Arts (BOZAR), Brussels; The Flemish Opera, Gent; and the Opera de Lille in Lille, France. She has participated in IRCAM's summer festival Manifeste, in which she collaborated with composer Thierry de Mey, percussionists Steven Schick and Samuel Favre, and performed with choreographer Alban Richard.
about the program
QuaQuaQua presents an engrossing and highly unorthodox program of theatrical contemporary music, including pieces for amplified table tops, virtuosic knife and hammer work, fingers in ears, and perhaps even Nintendo Wii controllers. Come buy, sell, and trade in the deviant world of analogies with QuaQuaQua!
~
Notes from QuaQuaQua member Adam Rosenblatt on working with the composers
François Sarhan:  
QuaQuaQua has worked most closely with François. I have personally been collaborating with him on different projects since 2013. We invited him to the US a couple years ago for a residency at Avaloch Farm, and it was out of that residency that the duet Analogy Fair was born. He began writing it there, experimenting with us to see just how easy or hard it was to stick a knife in a plywood table top, play a cowbell with a hammer, etc.  
I'm currently working with François in the context of a new ensemble he created called "Something Out There." It's 5 musicians in a kind of rock combo setting, but all the work with this ensemble takes the theatrical absurdity to an extreme. It's kind of like Frank Zappa meets Pierre Boulez meets Monty Python meets Waiting for Godot. We're currently meeting one week per month at a theater in Essen, Germany, to do workshops and rehearsals, and we'll be premiering a new show written by François at an opera festival in Bregenz, Austria this summer.  
I guess the analogy would be QuaQuaQua is to Something Out There as Arcadelt is to Gesualdo….or something. 
Mark Applebaum:  
Like François, Mark is a very eccentric composer, and loves taking ideas to extremes. Among his crazier works, he's written a piece for solo florist and orchestra (that's not a typo)
a piece called "Rabbit Hole" which is more about making page turns than about making sounds, and he's developed a gestural "lexicon" for his pieces that is now more than 300 gestures (this lexicon began with Aphasia). 
Thierry De Mey:  
Thierry is actually as much a film maker as he is a composer, and his work has always been very closely tied to contemporary dance. He thinks in gesture, physicality, and visual form as much as he thinks in sound. In fact, Table Music (arguably the piece he's best known for) grew out of an award-winning dance show by a Belgian choreographer in the mid 80's. The choreographer, Wim Vandekeybus, created a short segment where one dancer "controlled" two other dancers with her hands "dancing" on a table. This video clip gives the idea (opening 30 seconds):  
Thierry was making other music for this show, but saw this and then extended the idea to create Table Music.